British GQ got the chance to speak to the Brooklyn-based designer about London, his eponymous brand and what's next 
Chances are, you probably haven't heard of Heron Preston. Over the last 12 months, the upcoming designer has quietly become almost as big as Virgil Abloh's Off-White on the streetwear scene, but now he's on the brink of breaking through to the big time.
So who is this unexpected fashion prodigy? 33 year-old Preston (yes Heron is his real name) has actually been on the scene for a number of years, and has a career that has seen him work with some of the biggest fashion names. While working as Nike's global digital producer, Preston was approached by Abloh, Matthew Williams and Justin Saunders for a collaborative project, Beentrill. Soon he had received Kanye West's seal of approval and began working as his creative consultant, designing much of his tour merch.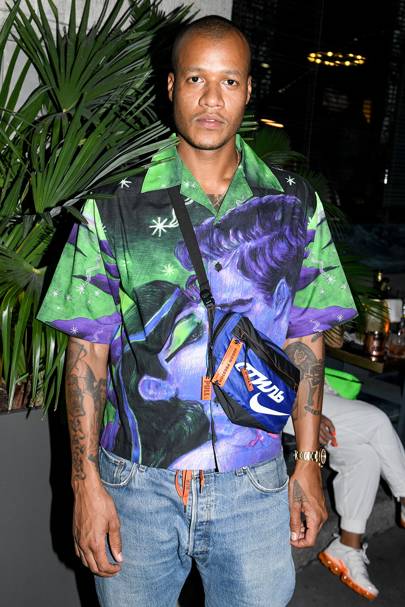 Now he's going it alone. When Abloh started Off-White and Williams began Alyx, Preston followed suit. In 2017 he put out the first collection for his namesake company, which was a major success. Following this he secured himself an acclaimed place on the BOF 500, and is now worn by the likes of former GQ cover star Bella Hadid and Justin Bieber. Collaborations with Carhartt, NASA, Gap, UGG and Off White came next, while a hook up with Nike has been teased.
We got the chance to speak to Preston when he came to London for the Selfridges launch of Basketball Skateboards, a brand he has set up with Jacuzzi (another of Kanye West's prodigies). Below is what he had to say.
GQ: what do you think of London?
Would you ever move to London?
You know what I have actually considered it because it's coming up to 16 years since I moved to New York. I have like a second life in Milan, because it's where all the Heron Preston gear is produced, so I was thinking that Europe could maybe be a next destination that I move to you know. London watch out. London, Milan and Paris are the three cities I'd move to. Saying that Dumbo where I live now is still pretty special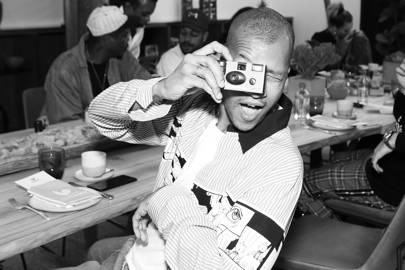 What's your number one style rule which all men you think should stick to?
Just wear things that are comfortable and that make you feel confident. Clothes should make you feel good! I think that authentic style is important, you know? When you're not trying too hard and it just comes naturally, that's what makes you feel powerful and empowered when you are walking down the street.
What do you think men should avoid wearing?
Men should avoid doing so many things… In terms of dressing, sh*t I don't know. I think maybe a tiny fedora hat? I probably couldn't pull that off.
What's your everyday uniform like?

My everyday uniform? Its usually like Heron Preston denim or bits from my work wear-inspired collection – a Heron T-shirt, that's pretty much it. I've been wearing my snakeskin boots a lot. I like to keep it casual, comfortable and stylish. I don't go too crazy with what I wear on a day-to-day basis.
Who are your style icons?
I simply love Skepta's style. I think it is really fresh. It's edgy but mature, and I think that he just holds it together better than anyone else out ther. He's able to still kind of hold that street edge, but it's elevated. Ian Connor is always ahead of the curve and it's just perfect timing just for the world of fashion. He is the most style-obsessed kid that I know. He's really on it when it comes to resurrecting things from the past and bringing them into the present. His knowledge of the history of fashion is amazing and brings that to the table through the way he dresses.
Who are your favourite designers?
Demna Gvsalia's work both with Vetements and Balenciaga is incredible. I love Galliano's work and I love Sacai's work. The Soloist is also an amazing brand. I love a lot of Japanese designers, expecially what they bring to the table as it's so different to anything else.
What's your favourite item in your wardrobe?
Simple as it sounds, it has to be this Prada roll neck jumper I wear. I have just been wearing it so much, every night in fact and I love it. Its just black, understated and simple, but seriously good. Prada is seriously good.
What's the biggest style mistake you've made?
I don't look at them as mistake as such, but prefer to tell myself it's a work in progress.
What's your grooming regime like?
I actually am really into my grooming! Uh yeh so I use Dr Barbara Sturm. I use her facial products all the time. Then I get regular manicures and pedicures. I love to get pampered so I do that a lot – I travel a lot so I love to get massages when ever I land. I'm really into my mental wellness so I feel a massage is good for my mental and physical health. Also, flossing your teeth – that's essential.
What's next for you?
So I am launching my new collection in Paris in January and that will be a full runway show for the first time. Last season I showed a kind of presentation stroke runway and it was about 50/50. This will be a full catwalk show, which is still a work in progress. I've got fittings coming up and still have a bit a of a way to go yet.
Tell me a little about Basketball Skateboards
Jacuzzi is a good friend of mine. We ran into each other backstage at a Yeezy show, he was a modelling. He came up to me and he wanted to sit down and pitch me an idea, because he knew that I had my own brand. He was like 'yo I have an idea and its called Basketball Skateboards, and it's a skate brand and I want to launch this with you'. I liked the name immediately.
He explained that when he was younger his mum promised him a skateboard if he made the basketball team.
I was already talking to some people at Pacsun about launching a project with them and it has turned into this. Pacsun is based in SoCal and it's a mecca for skateboard culture.
I just felt like it would be a perfect fit. Basketball Skateboards is like the new chicken and waffles you know you just have to try it and you're going to like it you know, you just have to give it a chance. We are just a bunch of skaters, I grew up in san Francisco, you know another mecca of skating.
Is skateboarding big in your life?
Skateboarding raised me. I grew up skating at Pier 7. When the opportunity came along to create a skate company Jacuzzi and I were like this sounds awesome let's do it. We are still skaters at heart.