Photographer Ann Ray discusses her expansive archive of imagery from her days shooting friend and collaborator Alexander McQueen
"I love your photos," Alexander McQueen told photographer Ann Ray in his Rivington Street studio during the summer of 1997. "Give me photos and I will give you clothes." So began a creative partnership and profound friendship that would last until the designer's death in 2010.
Ann had first met Lee a few months earlier. He had just begun working at Givenchy as the creative director and the house invited Ann in to shoot the creation of his first couture collection. "We were both very reserved, but there was a kind of mutual observation — what shy people do," she says. "We didn't talk much, but the connection was intense and, when I moved to London during summer 1997, the first people I met up with were the McQueen team." During the following four years Ann spent in London, she shot every one of the Alexander McQueen shows. Her move to Paris coincided with the McQueen show's relocation to Paris Fashion Week and the deal they first struck remained. Her images of all his collections, from their creation to backstage, moments before they were taken out onto the runway, have a wonderful stillness to them, in spite of the often chaotic backdrops.
Though Ann took over 35,000 images, a lot of her archive remained unseen. Back in 2012, she published Love Looks Not With the Eyes, a small book of her work which caught the eye of St. Louisian gallery-owner Susan Barrett, who had recently begun collecting archive McQueen piece for an exhibition she was conceptually designing: A Queen Within: Adorned Archetypes, Fashion and Chess, exploring "which archetypes can be seen to form the idea of a queen, or metaphorically a woman".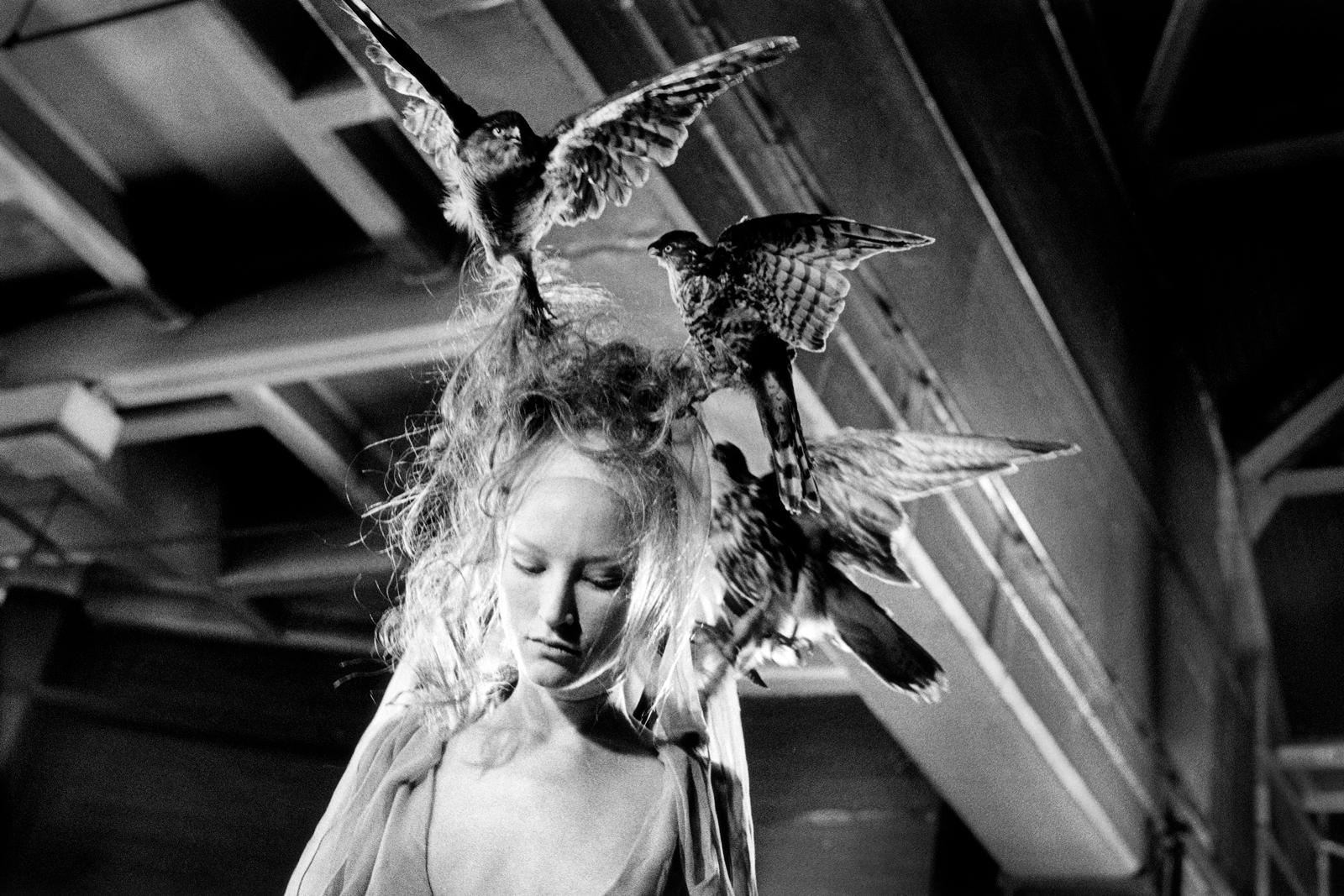 "I wanted to integrate different forms of art into this exhibition to highlight how important chess was as a symbol historically and culturally," Susan says. "I knew that McQueen had created a show in 06 called It's Only a Game — in which the models were chess pieces and a game was played instead of a runway show. Long story short, I reached out to the McQueen company to ask to borrow some pieces but didn't realise the massive changes the company was in." While scouring the internet for new pieces — and attempting to outbid Lady Gaga for armadillo boots — Susan read that Ann was publishing a book about her work with Lee as his behind-the-scenes personal photographer. "I found her manager and convinced them to let the American publication of the book be in St. Louis and a part of A Queen Within. Not only did the book release happen in St. Louis, but we partnered with a gallery to show her photos and included many in the original show."
Following the success of this partnership, the pair have worked together on a new exhibition currently showing at new St. Louis gallery, projects+exhibitions. Ann Ray & Lee McQueen: Rendez-Vous explores the 13-year friendship between the pair and the work they created together. Featuring Ann's photography alongside many of the original McQueen pieces Susan has acquired over the last few years, the show offers an intimate look at a lesser-known creative partnership that was crucial to the story of one of the most influential designers of all time. Here, we discuss with Ann the story behind the show.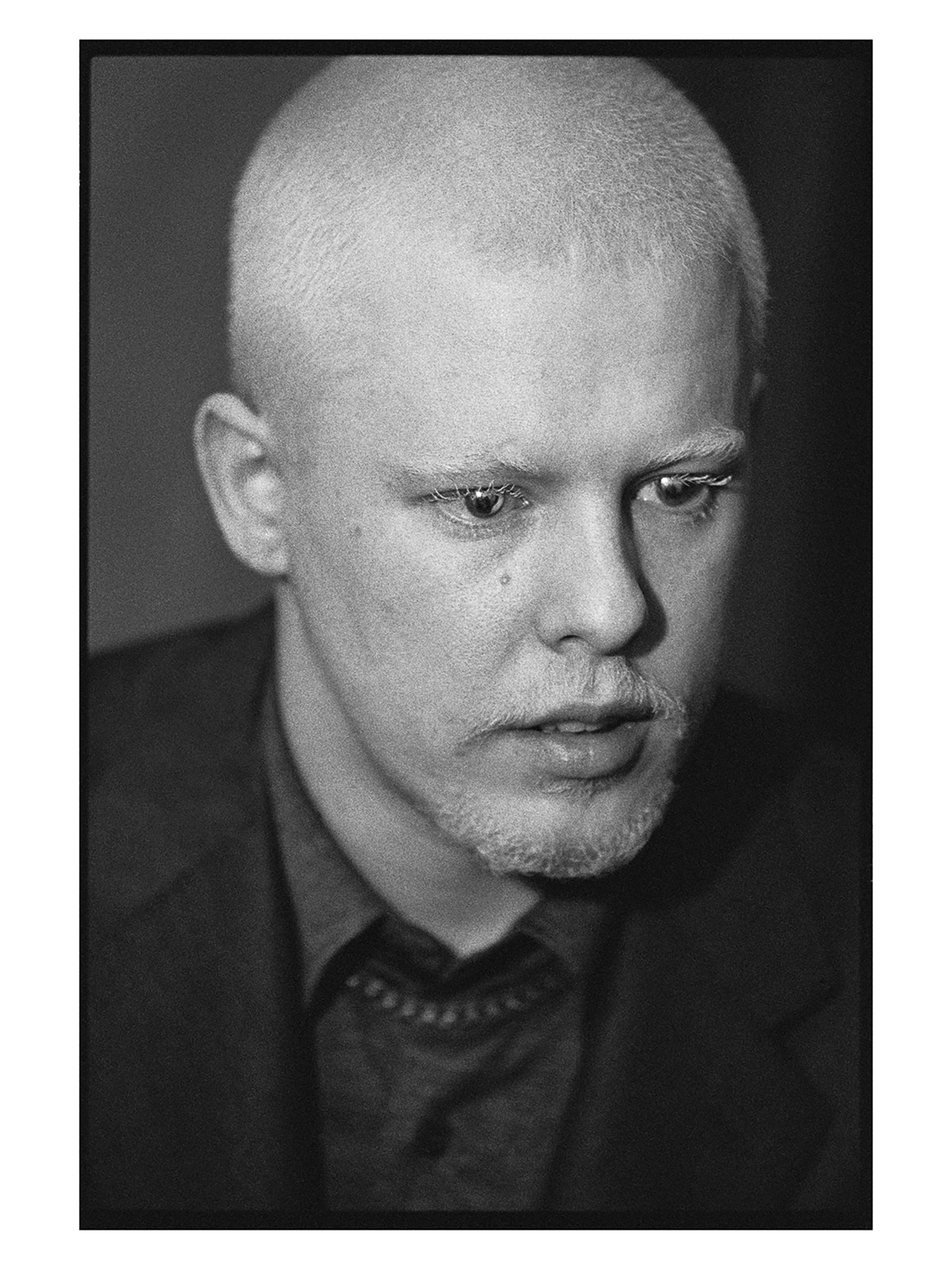 What's the significance of the exhibition's name?
The title came very naturally. I had "rendez-vous" with Lee, on a very regular basis, for 13 years. I was looking forward to it, each and every time. It was a joy and a privilege, certainly, but at the time it just seemed normal. Like illuminations. Like a rhythm. Lee was, and will always be in my DNA and in my life.
What were your first experiences of shooting his collections backstage like… it was such a fabled era in fashion history, what was the atmosphere and energy like back then?
We worked as much as we laughed. That time — January 1997 — was a blast. I remember so clearly observing Lee create a dress from a roll of fabric in 30 minutes or so. It was astonishing. I was observing, absorbing, and Lee watched me do so. I remember the night before the show, in the atelier, when Lee asked me what I thought of his work. Tough question, but it seemed obvious that the only possible way between us was radical honesty. So I told him honestly what I loved in his collection, and what I liked a little less, and why. "You're right, I failed, it's crap," was his answer. I denied this and… nuanced his words, and reassured him the best I could.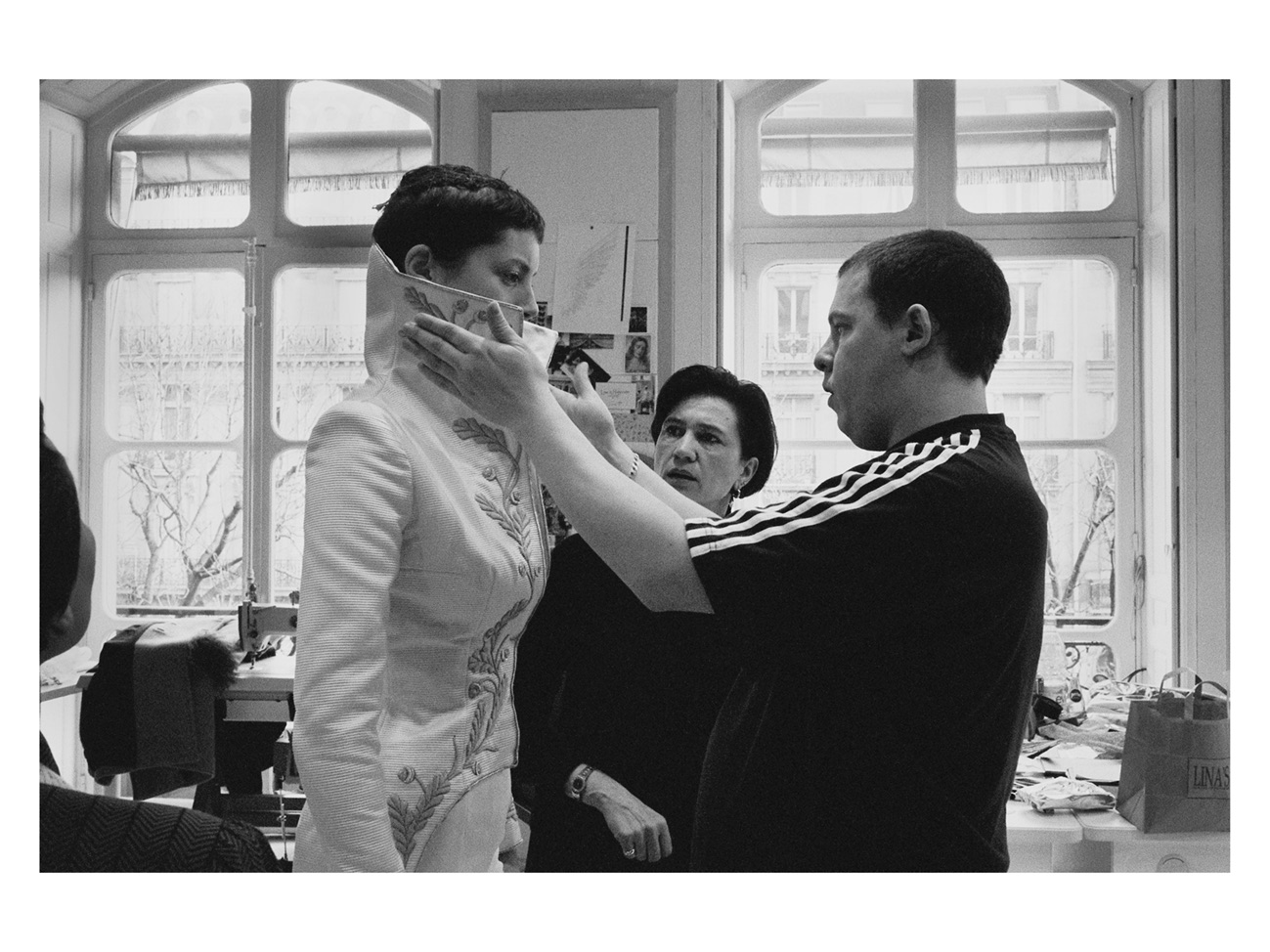 Did you ever find it daunting or stressful given how important his shows became?
I never felt any changes in the essence of our relationship, it was based on trust and mutual care. The London years, when I lived there from 1997 to 2000, were very special and tender — we would meet very often. For work and private moments. As far as photography was concerned, I would pop in the studio, be there for each show, and every time a magazine would ask for a portrait, I was in charge. I was honoured and happy to do this, so I took many portraits of Lee during these four years. We were both sad, I guess, when I left London for Paris. Strangely enough, it coincided with the McQueen shows making their debut in Paris. But I was only ever vaguely aware of the success and fame and noise around him.
I never thought of 'documenting' Lee's life. I was in the presence of something raw, sincere, overwhelming: him. As an artist myself, my photographs were my answers to what was created by Lee. Like a silent conversation. I want to believe he liked what he found in my images, like an echo maybe, otherwise I don't think it would have lasted so long. It just happened, it started, and never stopped. I loved him and felt the necessity to put into images, as symbolic as possible, what was happening in front of me. Many people were talking about fashion, whereas for me it was something else. Far beyond. I was in search of the naked truth, his truth, and mine probably through interstitial moments, who may reflect the ephemeral beauty of what was visible for a few moments. Of what it inspired in me. It had nothing to do with fashion, it was more like putting silent screams, hopes, dreams, nightmares into photographs that would last. That was daunting.
My meetings with Lee were a sum of essential rendez-vous that occurred very naturally in my life and that seemed to have no end. I was in the instant, not in any kind of projection. The present was too intense to be disdained or formatted in any kind of long-term project.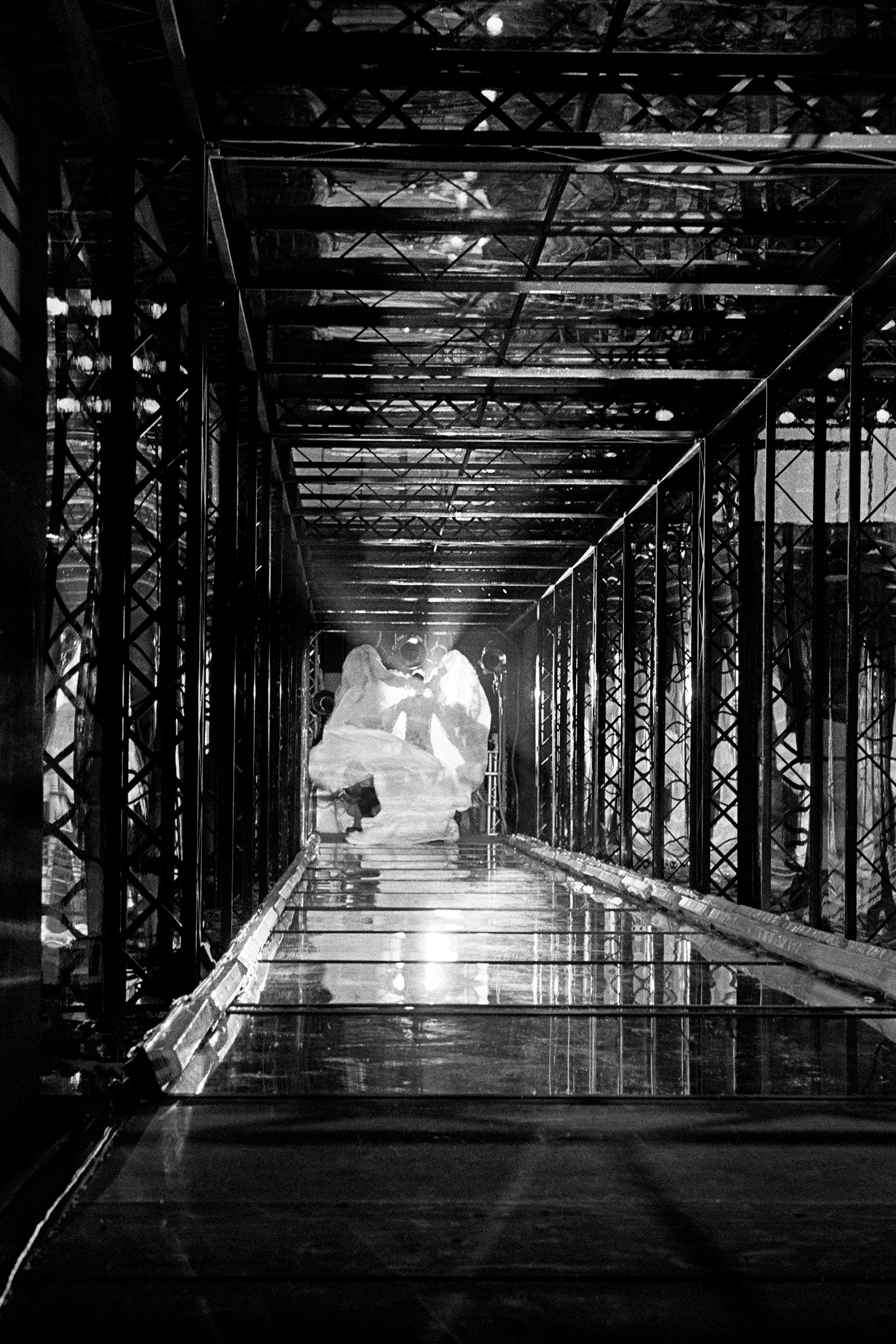 Up until now you've kept your archive relatively private. Can you talk a bit about how this exhibition in St Louis came to life?
My priority is to exhibit my photographic archive in a consistent way, with the idea of being true to the images. I have been devoting a lot of my time to this since 2010, the climax being the exhibition organised at the photography festival of Arles in 2018 — Les Inachevés ("The Unfinished") — with 169 photographs exhibited over a 500sqm space, and a publication of the same title. It was the culmination of years of thoughts, feelings and observations. It was a deeply honest tribute to a great artist and a lovely man, a dear friend. It was a closure too, after 20 years "with" Lee, in one way or another, with all the intensity and the truth it involves.
The exhibition in St. Louis is more about friendship and artistic adventures. The main thread in the exhibition is to explore my link with Lee, and also links between people who create things together. Who make something happen together. In the McQueen context, and generally, in life. Susan Barrett was the first one to exhibit my McQueen photographs in 2013 in St. Louis. It felt like a necessity to work again with her. We agreed very quickly with Jessica, the curator, on the main theme and the title Rendez-Vous. Then it seemed interesting to exhibit as well some garments from Susan's private collection. Susan devotes so much of her time and energy to gathering this collection, it is meaningful to share it with the audience.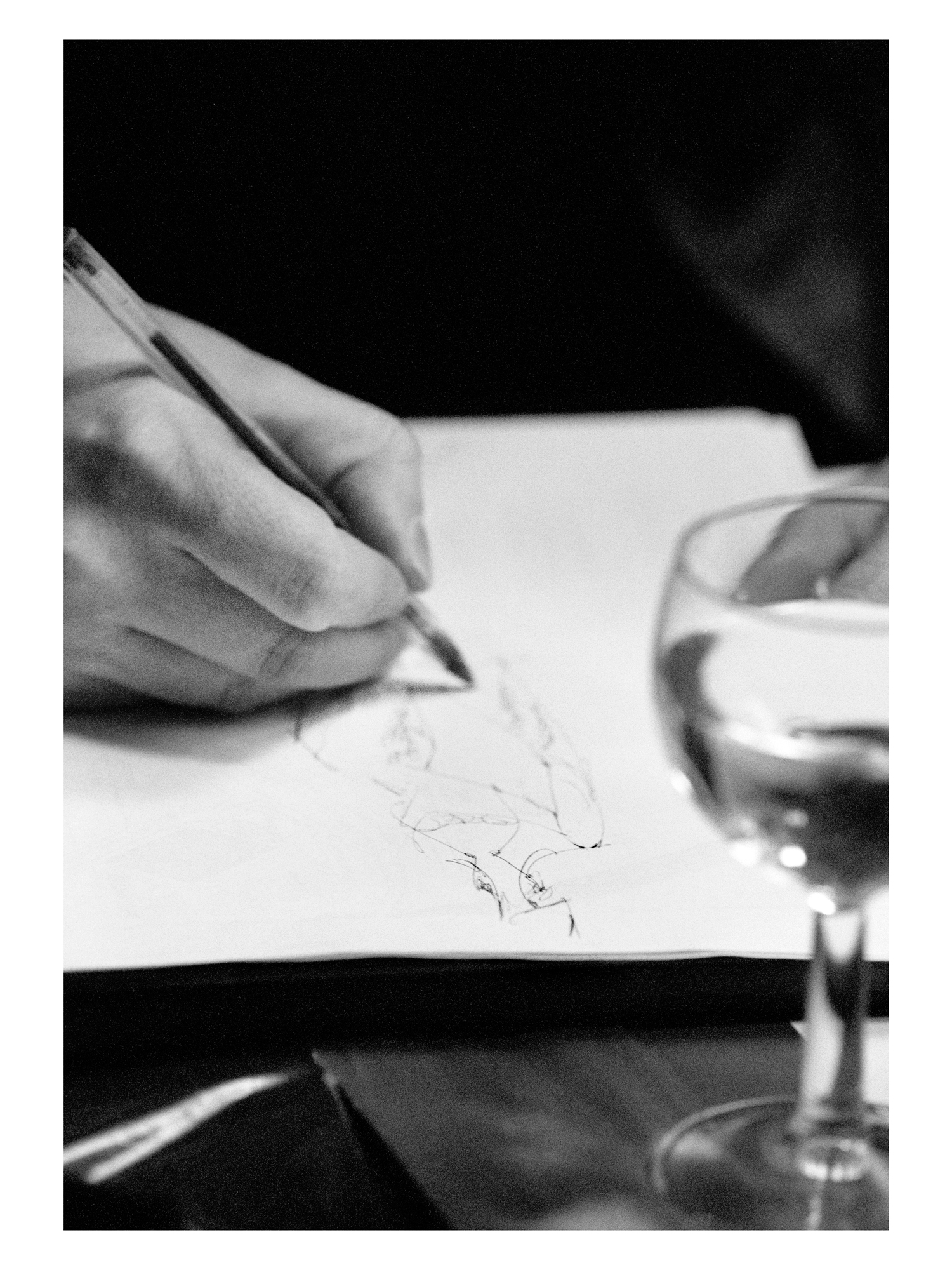 How did you go about curating the images and garments for this exhibition?
Some images are truly iconic and cannot be ignored, like the images from the performance N°13. That was a climax in Lee's life and art, as early as in 1999. Some have been selected by Lee and I, therefore they have a place, obviously. And others reflect the main themes of friendship; trust, shared joy, faithfulness and faith. The entire selection embodies a significant "body" with some new images — never revealed before this exhibition. The truth being that with 35,000 images, and my experience and knowledge of the subject, I feel like a musician playing different versions of a concerto. I can do it, in my own way. It's a responsibility and a duty to do so. I have been an observer for 13 years, and a guardian for nine — since Lee's death in 2010 — so I do know what I am talking about. What I am showing. What I am sharing.
The younger generations also must have access to him, that is another key point in everything I do about Lee. He already belongs to another era, and actually I hardly need to talk about him. The images say it all.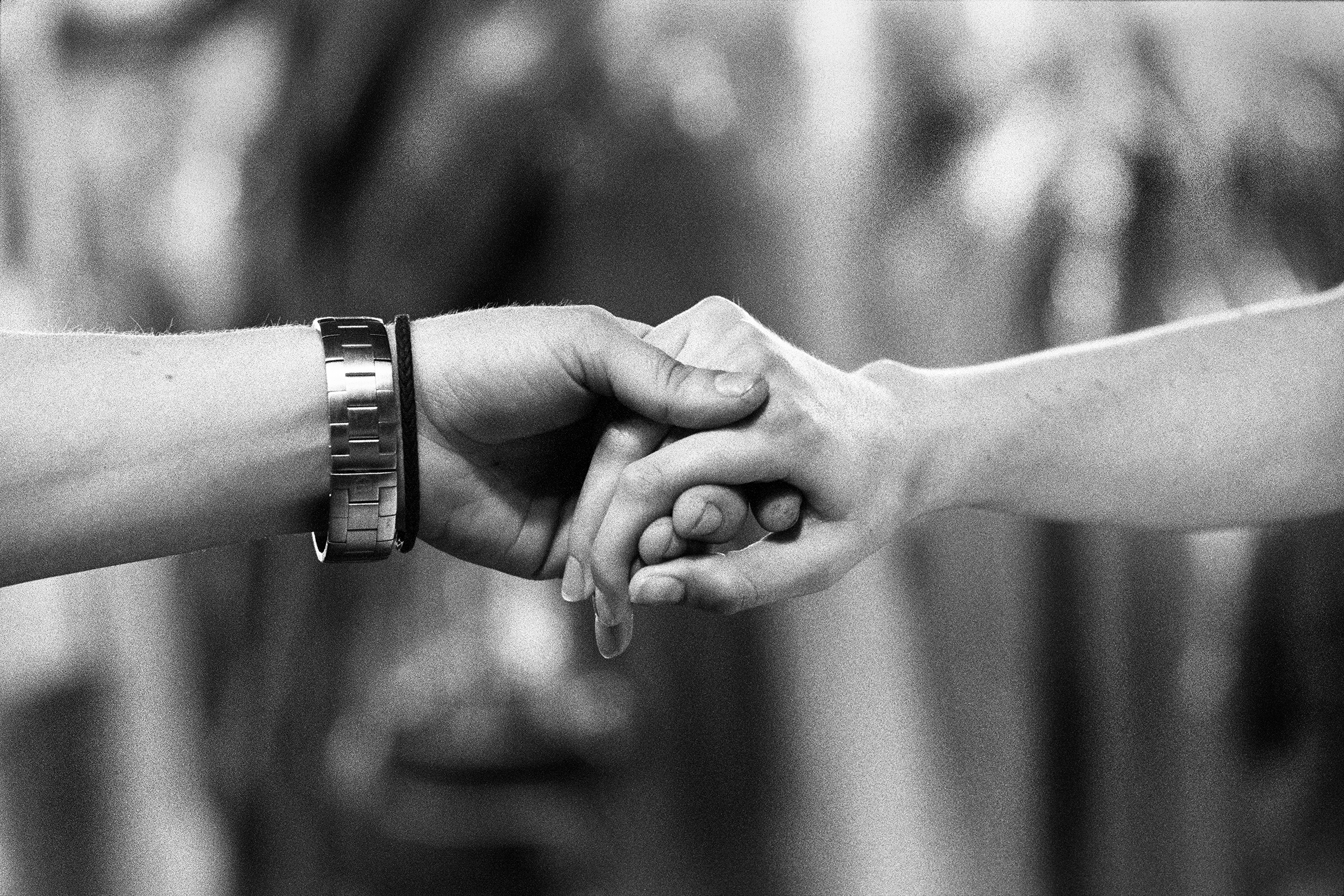 10 years later, what can we learn about Lee from looking at his archive and this incredible imagery?
At the beginning of the 2000s, I was spending very little time in fashion, putting most of my time and energy on personal projects. Lee was my special bond, my special secret story, oblivious of all the frantic atmosphere that I could see but ignored. I must say, it was a very calm feeling. I had to be there for him, that's all. I realised the obsessive madness about Lee when he died. That's probably when I understood that the legend and the man I knew and loved would never reconcile. I still embrace this idea today. My photographs deal with Lee McQueen, the man and the artist I had the privilege to know. In other words: the truth of the legend. The less people talk about Lee, the better. Images speak for themselves. Images don't lie.