Supreme, the cult streetwear brand and, announced a capsule collection with the iconic subcultural photographer 
here aren't many brands who capture the modern zeitgeist like Supreme; fewer still that encapsulate modern masculinity in the way that they do (the "fraternity of Supreme" even inspired a 2016 novel, Supremacist, by Adam Shapiro).
And it's precisely those points that makes their newest drop – a collaboration with Nan Goldin's photographic archive – so particularly brilliant. In many ways Goldin's work, which offers a look into queer spaces through the female gaze, is diametrically opposed to skate culture – but now it is being pasted onto it in a fashion that is fabulously appealing.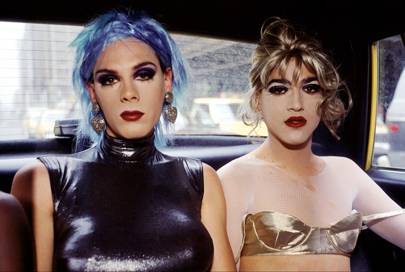 Instead of a traditional pin-up, we have Kim – a transsexual performer at the Folies Bergere – in a rhinestone-bejewelled thong decorating a T-shirt; or Nan herself, in dominatrix drag, covering a skateboard.
"I did this for the kids," she said. "I'm looking forward to seeing teenagers skating on my images and wearing them. To my mind, people have become so conservative, especially the millennials – its like the 1960s never happened – so I like the idea of them being exposed to my real world."
That world is one that explores Misty and Jimmy Paulette (her image of the two drag queens in a taxi in 1991 is what Nan terms her "most popular picture"); the gay bars of 1970s New York; women like Kim ("the queen of Paris… she was transsexual long before that was the norm [and] being so close to her in her dressing room was like a religious experience.")
"Drag queens are the real Queens," continues Goldin. "A lot of people feel like someone else but are only brave enough to dress up for Halloween. My friends were pioneers. They paved the way for LGBT communities of today."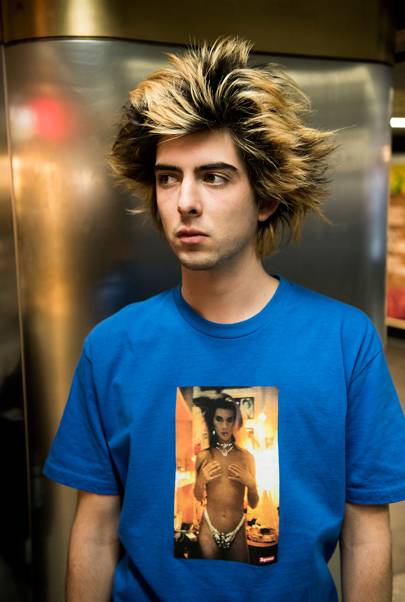 "Nan Goldin's work is real and raw – in the time, places and subject matter she shot," says Supreme.
"It comes from an era where the subjects she documented were taboo by society's standards. To do this project with Nan Goldin is to celebrate the diversity her work represents and expose young people to it."
To take work like this, which celebrates those relegated to the outskirts of society, and champion them through the prism of the Supreme phenomenon is a nuanced subversion of streetwear culture – and one that is resolutely desirable.
"I can't wait to wear the hoodie," said Goldin.