British designer aiming to make business case for why brands should tackle climate change
Stella McCartney is to announce a United Nations fashion industry charter for climate action, which will be launched at next month's climate talks in Poland.
The designer hopes the charter will "ring some alarm bells" while making a business case for sustainable fashion, setting out a path for collective action to enable low-carbon production methods to be scaled up, improving economic viability. Other signatories to the charter, which will be launched in Katowice on 10 December, have yet to be announced but are known to include several major fast fashion brands.
The charter has been initiated by the UN climate change secretariat. Waste, pollution, deforestation, toxicity in manufacture and carbon-fuelled supply chains combine to make fashion one of the most environmentally damaging industries, and reform is essential if the goals agreed in the Paris climate agreement are to be met.
There are signs consumers are driving a move towards responsible consumption. A report by the fashion search website Lyst, which tracked more than 100m searches over the past year, shows a 47% rise in searches that combine style and ethics, such as "vegan leather" and "organic cotton".
"We really don't have long now, to change things. But I honestly believe it's doable – I couldn't do what I do if I didn't believe that," said Stella McCartney. "There is so much guilt and fear attached to talking about sustainability and that's not helpful. What is essential is for the big players in the industry to come along with me, because that changes the price point."
Support for the charter has so far come largely from high street brands. "Fast fashion is responsible for the lion's share of environmental impact, so they are the most important element in effecting real change," said McCartney.
But Thursday's announcement doubles as a recruitment drive for the luxury industry. Between 30 and 40 chief executives of international high fashion brands will be in the audience when Stella McCartney unveils the charter at Voices, an annual fashion industry conference staged by Imran Amed's Business of Fashion website. "It's a captive audience of industry leaders," said Amed. "And that presents an opportunity to convince them to come onboard."
Convincing industry decision-makers to prioritise sustainability is "not about peer pressure, it's about making them excited", said McCartney. "Who wants to talk about this season's colour or the next It bag? The sustainability conversation is really the only one that I am interested in having. Prospects for lab-grown alternatives to leather are the kind of topics I find sexy now."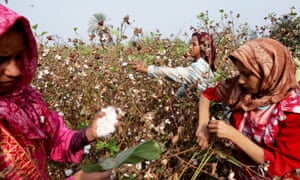 Facing a trend from younger consumers to spend money on experiences rather than clothes, the fashion industry has been resistant to regulations that would make fabric production more expensive. An ethically produced velvet that Stella McCartney hopes to use for next season's party dresses is priced at £100 a metre because a lack of demand means it is produced in tiny quantities. "There is a reason the fashion industry clings to old-fashioned ways of doing things – it is cheaper and it is easier," said the designer. "We can only fix this mess if we work together."
Sustainability is not immune to trends, and the buzzword in environmental fashion is soil. "We know about the rainforest and about the ocean, but we also need to talk about soil and regenerative agriculture," said Stella . Mass production of cotton, the most widely produced fabric on earth, is inflicting huge damage on soil biodiversity.
Stella McCartney will be preceded on stage at the conference by the keynote speaker, Christopher Wylie. The Cambridge Analytica whistleblower will address the growing power of big technology companies, and how the fashion industry interacts with them.
Wylie, who studied for a PhD in fashion trend forecasting at the London School of Economics, told the Observer he drew an analogy between fashion and politics for Steve Bannon, telling him: "Trump is like a pair of Uggs, or Crocs, basically. So how do you get from people thinking 'Ugh. Totally ugly', to the moment when everyone is wearing them?"
On Friday, David Pemsel, the chief executive of Guardian Media Group, and John Ridding, the chief executive of the Financial Times, will address digital disruption and new media audiences.