Remo Ruffini has shown he can sell down jackets in July. He's found buyers for fur-trimmed ski parkas from not one, but two stores in Hawaii.
And he's managed to turn outerwear designed for subzero temperatures into a fashion statement on runways in New York, Paris, and Milan.
Now he has to prove that he can keep selling enough of his $1,000 jackets—in climes both hot and cold—to warrant his company's market valuation of $10.7 billion.
"People aren't dressing the way they did 10 years ago," Ruffini, 56, says at the Milan headquarters of Moncler SpA, where the showroom racks are stuffed with everything from tiny puffers for children to $1,700 fox-fur hats. "The down jacket is a part of this new look."
Moncler's profit margins are second only to Hermès International SA's among publicly traded fashion companies, its shares have returned an average of 30 percent annually since its initial public offering in 2013, and sales last year jumped 17 percent to €1.2 billion ($1.5 billion).
As rivals step up efforts to mimic the trend, Ruffini—Moncler's chief executive officer and chairman—is reshaping his approach to marketing, forging ties with new designers, and applying his brand's duck mascot to more apparel such as sneakers and swimsuits in an attempt to keep customers coming into stores whether there's snow or sun in St. Moritz.
With Moncler nearing insolvency when he took over in 2003, Ruffini pulled out of midrange sporting goods stores and opened his own boutiques in luxury shopping areas such as Rodeo Drive in Los Angeles and the Boulevard St. Germain in Paris.
The company became known for extravagant runway shows, with troupes of hip-hop ballerinas prancing through ersatz autumn forests and models traipsing across fake snowfields.
The push upmarket paid off in attention from the rich and famous: The rapper Drake donned a bright red Maya jacket from Moncler in the video for his 2015 hit Hotline Bling. Michelle Obama wore one skiing in Aspen, Colo.
Ruffini "helped take sports dressing and made it into a fashion piece," says Elizabeth von der Goltz, global buying director at luxury e-commerce site Net-a-Porter.
Moncler's success breathed new life into the industry, with global sales of designer outerwear growing more than 20 percent in the five years to 2016, to more than €70 billion, researcher Euromonitor International estimates.
With clothing retailers including Uniqlo, Zara, and Hennes & Mauritz adding puffy jackets, the look is becoming ubiquitous.
Rappers and hipsters are giving street cred to producers of sports-oriented parkas such as North Face and Patagonia.
And Canada Goose Holdings Inc., a maker of heavy-duty winter coats that can cost more than $900, has seen its sales double in two years.
A recent HSBC Holdings Plc survey found that Canada Goose has become more sought-after than Moncler in the crucial Chinese market.
Moncler's sales growth has slowed every year since it went public, and analysts see it cooling further.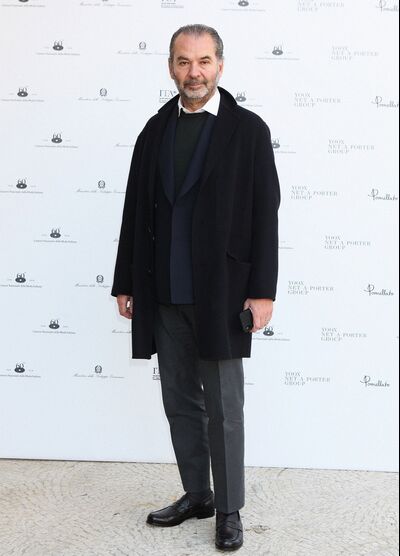 Ruffini's strategy now is to ditch fashion week runway shows and instead offer new products almost monthly.
While the likes of Gucci and Céline SA employ top designers to impose a singular vision on every aspect of their brands, Moncler is parting ways with its stars, Thom Browne and Giambattista Valli.
Ruffini is planning collaborations with a rotating cast of eight creative directors, including Valentino's Pierpaolo Piccioli and Japanese DJ-turned-streetwear-designer Hiroshi Fujiwara.
These people will mix their vision with Moncler's aesthetic, and their collections will be released via parties, pop-up shops, and partnerships with online retailers such as MatchesFashion.com.
Moncler is "multiplying opportunities for people to come back, to get people who haven't come before into the brand," says Erwan Rambourg, luxury analyst at HSBC.
Ruffini is rounding out the lineup by applying his trademark quilted down to everything from puffy backpacks to scarves and adding items such as alpaca sweaters, mink house slippers, and logo caps and T-shirts.
To stay relevant year-round, he's introducing sporty rain shells and new shapes for his "long season" models—slimmed-down jackets that are light enough for a chilly summer night on Nantucket and can be layered for more warmth in the winter.
"I'm always looking for new energy, young energy," he says. "Brands that have energy understand the world is changing. They have to follow the new customer, the new generation."