The autumn/winter 2018 season is the start of a new chapter in Salvatore Ferragamo's story
It is the first for Paul Andrew, the British creative director, who was taken on by the house in September 2016 to design its shoes, and made head of womenswear in October 2017.
In September 2018, he introduced the concept of a co-ed show to the catwalk, and, now, to his first campaign.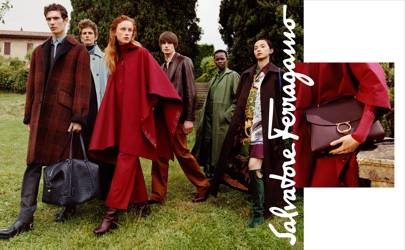 Shot by Harley Weir and featuring Stella Tennant, Shanelle Nyasiase, Rianne Van Rompaey, Xiao Wen Ju, Piero Mendez and Edoardo Sebastianelli, Andrew worked alongside menswear director Guillaume Meilland to realise his vision.
"I want Ferragamo to assert a distinctly special voice," he told Vogue ahead of the launch.
"The best way to do that is to be collaborative, inclusive and open – which is why I'm so excited to be working alongside talents like Guillaume, Harley, and this powerful cast of models. Together we've found a harmony that truly reflects the bold and positive change that's afoot at Salvatore Ferragamo."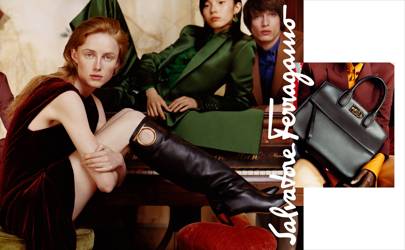 The new brand vision is rooted in shoes (naturally) and each image homes in on the new-season bags and boots – all in Andrew's rich, inviting colour palette.
The weight on its accessories division is indicative of the fact that, like most luxury labels, the Ferragamo Group makes the majority of its revenue on accessories.
In 2016, it generated 79.3 percent of its income through its footwear and leather goods categories, according to the Business of Fashion. Ready-to-wear counted for 6.5 percent in comparison.
By placing an accessories designer, one who was awarded the CFDA/Vogue Fashion Fund in 2015, at the heart of its business, Ferragamo follows an emerging industry trend.
Mulberry, Dior and Valentino, among others, have also placed designers who started off their careers as leather goods specialists at the centre of their ready-to-wear offering.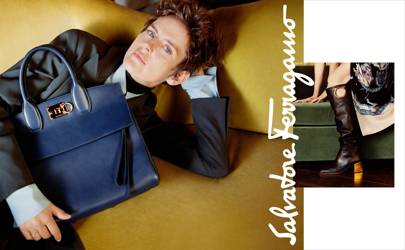 Andrew, however, is keen to pay homage to his predecessors as he moves the brand forward.
"There has always been a sense of modernity in the legacy of Salvatore Ferragamo evident from his creations, ingenuity and dynamic personality," he explained of his archive research.
"To celebrate this talent has required an immense study of the brand's iconic codes paired with today's creative sensibility, and a respect to form and function. With Guillaume, we've set the foundation for an ongoing narrative, a cinematically dynamic future ahead."