On the September 1 red carpet of the film Laundromat, Steven Soderbergh's dramatic comedy about the Panama Papers, Meryl Streep was the star
Starring in the film, along with Gary Oldman, Antonio Banderas, Jeffrey Wright, Streep appeared on the Venetian red carpet in a Givenchy outfit perfectly in her style. Iconoclast a deep way, Meryl broke the rules once again by dotting her maxi-caftan turquoise with colorful flowers.
Relying on the regular shapes and designs she's used to, Meryl Streep shone with her own light, like a real diva.
The light, floaty chiffon dress featured slightly domed long sleeves, a simple single-necker and tea-length skirt, which resulted in a floaty mini-tail. The colorful texture on the blue fabric gave a lenient and particular mood to the star, who paired the ensemble with her usual flair: sunglasses with orange lenses and animal frame.
<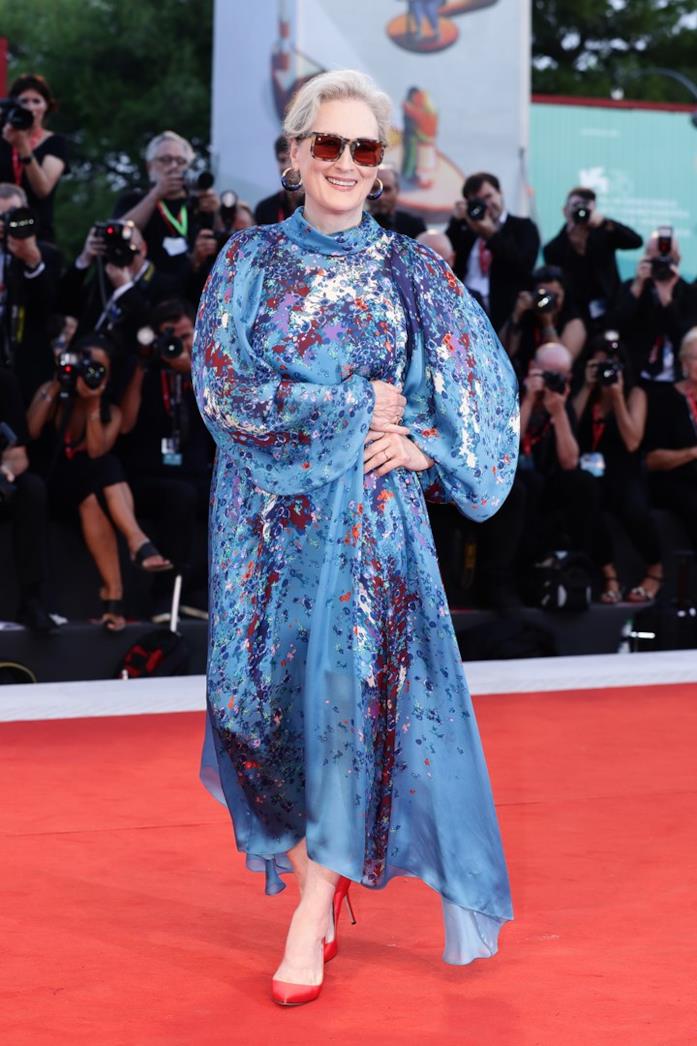 Gold and blue hoops towered over Meryl's lobes, but the shoes made up the most particular detail. The actress wore fiery red pumps, with stiletto heels, classic, just like those of the poster of The Devil wears Prada.
The hairdo, the usual silver crop, matched perfectly with Streep's outfit, perhaps the last real Hollywood antidiva.