On a fashion scale of one to 10, Lady Gaga usually dials it up to about 15 with her sartorial statements onstage and on the red carpet, as when she wears Tom Ford tuxedo jacket
That's why it's so refreshing to see the Mother Monster as Everywoman — albeit Everywoman with a huge, undiscovered talent — in A Star Is Born, which opens in cinemas on Wednesday, Oct.10.
In the movie, Gaga plays Ally, a hotel waitress by day who sings at a drag bar at night and gets discovered by rock star Jackson Maine, played by Bradley Cooper, who also wrote, produced, and directed the film.
In real life, even when she was starting out, Gaga, aka Stefani Joanne Germanotta, stood out from the rest of the pop wannabes with her fashion-forward DIY costumes, towering heels, signature snood, and image modeled more on Ziggy Stardust-era David Bowie than Madonna.
The avant-garde designer's dream has since won the CFDA's Fashion Icon award, walked the runway for Thierry Mugler and Marc Jacobs, fronted several campaigns for Gucci and Tom Ford, and often appears in the designs of her muse, Donatella Versace.
Even at a petite 5'2", Gaga somehow manages not to get swallowed up by the billowing capes and voluminous skirts she favors. Maybe it's the heels… she once wore 16-inch spikes to meet then President Barack Obama, managing to intimidate the 6'1" world leader in the process.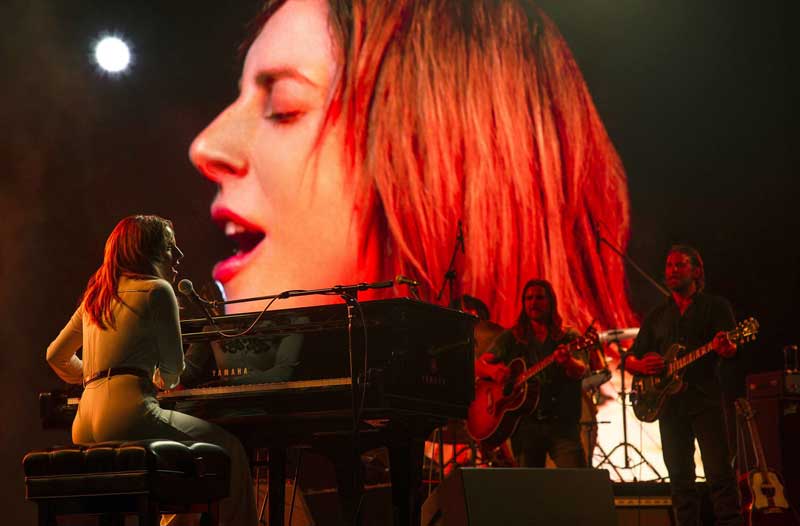 In A Star is Born, as Ally (played by Lady Gaga) becomes a pop star, she dyes her hair and wears more polished outfits.
At 6'1/2", Cooper is of similar stature, but the height difference ties in perfectly with this modern-day Eliza Doolittle story, where Jackson Maine literally takes Ally under his wing.
A Star Is Born costume designer Erin Benach had to design a very different fashion trajectory for Ally than Lady Gaga's.
I envy Benach, who earned a 2012 Costume Designers Guild Award nomination for her work on the movie Drive.  She's worked with Ryan Gosling no less than six different times — in Drive, Half Nelson, Blue Valentine, The Place Beyond the Pines, How to Catch a Monster, and Gosling's directorial debut, Lost River — and now she gets to dress (and undress) Bradley Cooper.
But anyway, back to A Star is Born. Benach faced very different challenges for her work on the film. Most notably, she says, she was "trying to foresee fashion that would not be out of date two years down the road, ultimately creating a timeless look; I knew all eyes would be on Stefani and it was important to let her character be the main focus."
Meanwhile, Stefani/Gaga found a lot in common with Ally: "I would go to auditions as a kid — I actually wanted to be an actress before I wanted to be a singer — and I never got close to getting a callback or a role," she recalls.  "In that moment, I think you really see in Ally someone who feels extremely defeated by the music industry.  She does not believe in herself.  She doesn't think she's beautiful or that her voice matters."
Benach had to explore the two main characters' histories leading up to the start of the film in order to determine where they would be when the story begins.  "We loved the idea that Jack would have a very small closet and a silhouette he rarely ventures out of," she says.  "We called it a uniform, actually.  He's not trying to impress anyone anymore.  You can almost imagine he doesn't think about his clothing, that he has three pairs of pants, four shirts, one jacket and an air of nonchalance about him.  You'll never see him picking out his clothes."
image: http://media.philstar.com/images/the-philippine-star/lifestyle/sunday-life/20181007/SL1-A-Star-Is-Born-Jackson-Maine-Ally.jpg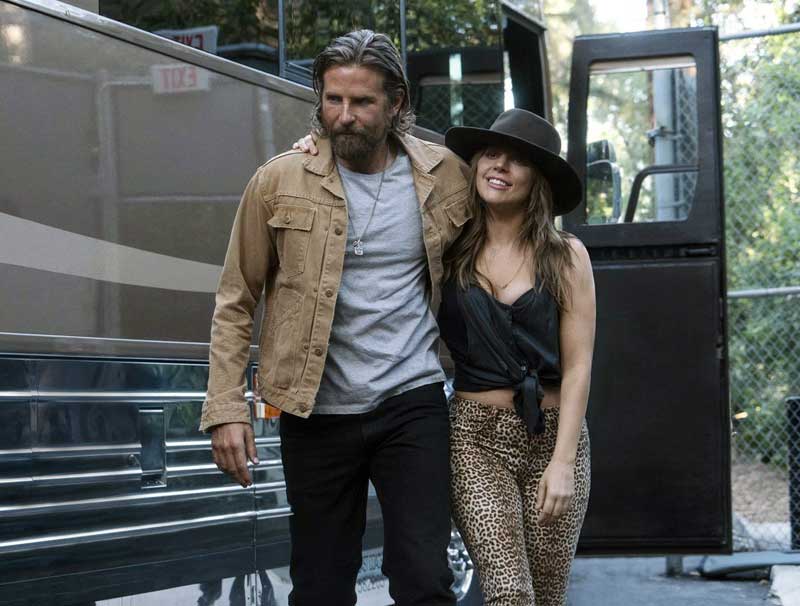 His fair lady: Rock star Jackson Maine (Bradley Cooper) takes Ally under his wing.
Nonetheless, instead of buying T-shirts and jeans for Jackson off the rack from the Gap or Levi's, Benach designed and created his whole wardrobe.  "We built all of Jack's clothes," she says.  "You might not think of his wardrobe as completely bespoke, but it was! All of his jeans had to be the right line for the boots.  We built his leather belt, his shirts, which were kind of a hybrid of a '70s shirt and a modern-day shirt.  All the fabrics have a heavy drape to them to make him look a little gaunt, a little messy.  He feels a bit like he's in his own world, so it was important not to connect him to anything specifically recognizable."
Ally, on the other hand, goes through a transformation that's reflected very strongly in the clothes she wears. "When the movie opens, she's a waitress at a hotel, so we have that uniform, and she performs at the drag club, which is really her creating another character, so she wears a slinky slip dress that she probably wouldn't in her real life," Benach says.  "For that, we see her in her jeans, T-shirts — her own sense of style, on a budget."
I marveled at how Gaga placed her trust so completely in Cooper, who calls her "Stefani" in real life. In the first half of the movie she allowed him to film her without makeup, hairstyling, and in drab, working-class clothes. And this from someone whose image is so bulletproof she travels in thigh-high boots swinging sleek Rapunzel locks.
Another scene requires her to be so vulnerable she's in her birthday suit, and you get a brief flash of her killer bod when the encounter ends.
When she begins joining Jack on stage regularly, Benach says, "We see she's somewhat adventurous.  We did a lot of vintage shopping downtown and in Long Beach, finding the gems that would work for her."
Once she begins to emerge as an artist in her own right, Ally evolves, Benach explains.  "Stylists start to bring her things, she starts to dress for events, she dyes her hair.  She's becoming a pop star.  Of course, Stefani had great ideas and was really helpful in guiding us in the right direction."
Benach was then able to incorporate high designers into the mix.  "We contacted a lot of brands and received a wonderful array of options."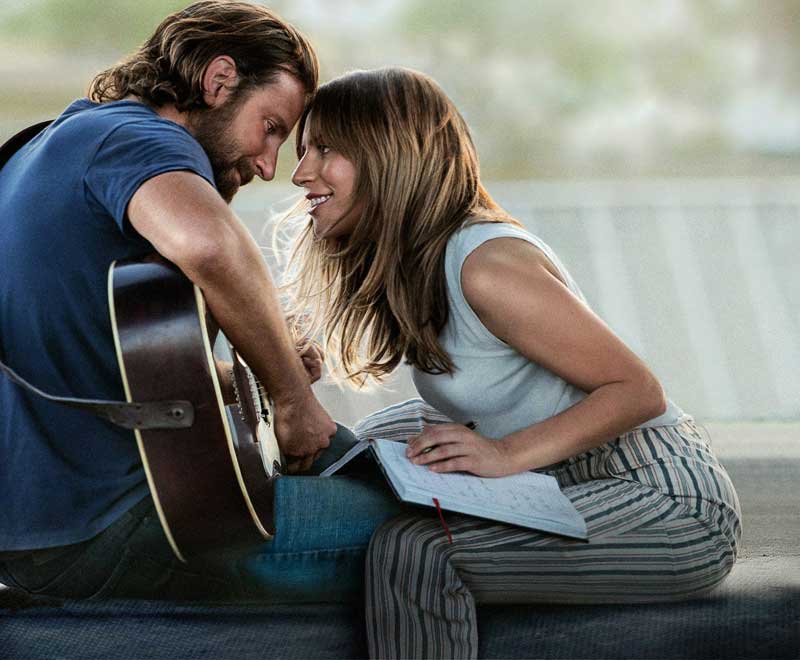 Far from the shallow: Gaga put her trust completely in director Cooper, who filmed her without makeup and hairstyling in a casual wardrobe by costume designer Erin Benach.
One gown that Ally wears was designed and sewn by Benach and her team.  "Without giving too much away, for one of our most serious moments of the film, when Ally is singing at the height of her stardom and we needed to convey an elegant seriousness, I designed a robin's egg-blue dress that I think captures the beauty of her stardom and the emotion of the moment."
It's a very different look for Gaga, who once wore a dress made entirely out of meat to the MTV Video Music Awards, but a sophisticated and graceful one.
Benach also had to take into account the fact that Gaga would be performing — often dancing — in her wardrobe.  "The best way to understand how to design clothing for a dance performance is to watch the dance moves!" she declares.  "This was possibly my favorite part of the job, getting to watch Stefani rehearse with her choreographer.  It was invaluable because you can read the attitude of the moment perfectly well in the dance moves and the music.  Once I had that I was always able to hit my drawing table for ideas!"
While watching A Star is Born it occurred to me how different (and not necessarily fair) the requirements are for men and women in the music industry. While males like Jackson Maine can just stand there in a button-down and jeans and play their instrument and sing, females like Ally have to don sexy costumes, change them frequently, learn how to dance while singing, and in general put on a show with much higher production values.
But Gaga could certainly relate to the evolution of her character.  Just as everything around her grows bigger when Ally's career takes off, Gaga says, "Once I said, 'Okay, no piano,' I decided I was going to have dancers.  Then I started designing my own costumes and building my own stage props, and it became a bigger show.  But at the heart of me, when I first started, it was just me and a piano."
She and a piano and a whole galaxy of wardrobes.